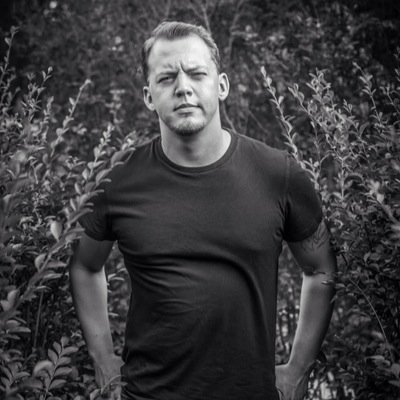 Today Country Perspective caught up with Mack McKenzie. He's a new country artist from Dayton, Ohio and has just beginning his country music career by releasing his first song "I'm Doing Alright." When I heard this song, I felt this was something that deserved to be heard and something you the readers would enjoy too. The song features great songwriting and a classic country feel. It compelled me to reach out to McKenzie and find out more about him and his new song.
Country Perspective: For those who don't know who you are, who is Mack McKenzie?
Mack McKenzie: I'm just an average guy, with an average job, taking a shot at what I would rather be doing than working 9-5. I'd like to think I make country music that is honest that hopefully some folks want to hear. Time will tell I guess haha.
CP: On your Facebook page it says you learned to play guitar from your grandparents. How much inspiration does that have on your music?
MM: I grew up on old country, bluegrass and gospel, so these were the first things I really learned how to play. After getting the basics down I moved on to classic rock. I didn't have any interest in bluegrass at the time, and I thought the country music at the time was terrible. So, long story short, it all came full circle and the old country and bluegrass is what really inspires the way I put together my music. I wish I would have stayed with the bluegrass longer in the beginning, there's a style of flat picking they do I attempt to utilize when I can but have yet to master.
CP: I see that you're a combat veteran too. First, thank you for your service to this country. Second, how much do you draw from this experience when making music?
MM: Thank you for the support, I appreciate it. It's funny that you ask that, because I try to avoid it almost entirely. It wasn't until about a year ago that I had to come to terms with it, and that it's simply part of me whether I like it or not. So, if I am being genuine when I write its going to show through. I do my best to mask it to a certain extent when I can, or write around it when possible. Either way, anyone who knows my prior experience in the military can probably see it. So many artists sing about the troops and being separated from their family, life, and routine, but having experienced it first hand, it comes off surface deep to me. I do have to say that having the military experience, gave me a drive I apply to my music, that I might not have otherwise. I also gained a great deal of life experience in general, seeing the world, good and bad.
CP: What was the inspiration behind the making of your first single "I'm Doing Alright"?
MM: Lyrically, I was venting some of my own demons and trying to get a few things off my chest. When it came to the video I wanted to have a focus on the lyrics and themes within the song, instead of anything too flashy. I sat down with the production team at Moon Ranch Entertainment and walked them though a few ideas I had. Originally we were going to do the solo shots of me playing and singing in the dark room, while doing flashbacks to scenes that would highlight the themes in the song. After the first day of shooting the dark room scene, I decided to scrap the flashback scenes altogether. I felt that what I was trying to convey might get lost in translation. A couple of days before we were going to release the video, I spoke with the production team and told them how I wanted to incorporate the signs. So we pulled a bunch of folks we knew together and set up the dark room again. I wrote out the themes and end message on the signs, we pulled folks onto the sound stage one by one, told them to go through the pile of signs and choose a theme they would want to represent or had significant meaning to them. We put them in front of the camera and finished up the remainder of the shots for the video. After a couple of edits we were able to cut this into the solo shots of me to have the product you see now. I chose not to hold the signs because, even though the song itself has a specific meaning to me, there are many themes/issues referenced that I think most people can relate to. I thought about the video for a while after I saw it all together, and nearly shelved it. I had concerns it would be too cheesy or "we are the world", if that makes sense. I was also concerned that it might put my music in a rut, as the "for a cause" guy. The song itself is incredibly personal to me and the video really brought to light what was really going on in the song. So after a couple of days I decided to release the video and just let it fly. There's not much brutal honesty in today's music, and people can see through BS. Brutal honesty makes the best music in my opinion. Either brutal honesty or absolute absurdity.
CP: With the increased dialogue about suicide and depression as a result of the recent death of comedian Robin Williams, how much influence did that have on you releasing this song right now?
MM: In all honestly it was completely coincidental that everything mirrored up the way it has. I had been playing this song for about a year. Give it time though, I'm sure someone will come along and sensationalize the passing of Robin Williams for financial gain. The statistics on the themes in the song are overwhelming, most of the population is affected directly by one of these topics, or has someone close to them that is. Funny story, I recently found out not many people understood what the song was actually about. The statement "I'm Doing Alright" is a front or a façade of what is actually happening, and I don't know if many folks picked up on it.
CP: What artists do you look up to and have had an influence on your music?
MM: George Jones, Jason Isbell, and Kris Kristofferson had some of the biggest impact on how I thought about song writing and how to really make songs that connect with people in someway, shape or form. Then you have guys like Levon Helm that could really paint a picture and go deep with very few words, which is something I really try to focus on. Hands down one of my favorite artist today is Sturgill Simpson. That guy blazed his own path and said to hell with all of the non-sense of the musical game. On top of all of that, he is killing it, so that gives me a little hope in my own self funded musical effort. I'm nowhere close to being in the same ballpark as any of these incredibly talented individuals but they have been the most influential on my music.
CP: What kind of country music do you want to make?
MM: I want to make country music that is true to me and honest. If it works out, it works out if not oh well, at least I can say that I tried. I just want to make music that people can relate to on more occasions than at a Friday night frat party.
CP: What are your thoughts on the current landscape of mainstream country music?
MM: Oh, heavens I could write a book on my issues with mainstream country music. I don't have any interest in hearing about the "pretty thangs", or "tight jeans" anymore. I'm pretty sure that someone could create an app that could take all of these phrases in mainstream country and make the next hit. With that being said, if you don't like something change it. My songs may never be heard on the scale as those in mainstream, but I'm never going to write anything like that.
CP: What are your current plans as far as touring and releasing new music?
MM: Currently we are in the studio recording my debut album titled "One Last One More." We are about halfway done at this point, and we are looking at a late October, early November release. We have been pushing the music out and its been getting some really good feedback. I tried to cover all of the country sonic space I could, so what you hear in "I'm Doing Alright" is the only song that sounds like that. A good chunk of these have a 70's country feel for the modern era. Once the album has been finished we will get back into the swing of playing out again. In the past we have focused on Ohio, Northern Kentucky, and Indiana, but after the album is released I would like to branch out further. All of us have regular jobs, so we can't stop and doing long leg tours unfortunately. A good deal of how far we venture out will depend on the reception of the album. So fingers crossed, we hope it goes well.
————-
To find out more about Mack McKenzie and keep up with him, you can follow him on Twitter by clicking here.
You can like his Facebook page, by clicking here.