Here at Country Perspective we talk about country music of course. We review it, analyze it, present it and listen to it. Except today we make an exception. I'm going to talk about what I considered the best outside of country music. Contrarian person: "But this is country blog! I don't care about non-country music!" Okay that's cool. Don't read this. If you're still here thank you. Now let me ask you a question: Do you only eat one type of pie? No you don't because that's stupid. I enjoy eating a variety of different pies. Chocolate, apple, cherry you name it. Even though I love country music, I would go insane if I just listened to one type of music. I listen to all types and I'm not exaggerating. Now keep in mind too my "rules" for country music aren't the same for other genres. For example, vulgarity is a much bigger part of hip-hop than other genres. But one universal rule for all genres in order to have good music: great lyrics with meaning and depth. So without further ado my five favorite non-country albums of 2014.
Run The Jewels – Run The Jewels 2
Where has this hip-hop duo been all of my life? I never heard their first album and still haven't. I heard a lot of hype about them on social media, so out of the blue I gave their album a listen. From the first listen I was absolutely blown away. This album hits you in the face from the first song and keeps throwing flurries in your face until the album ends. After all the album starts out with the ear grabbing shout of, "I'm going to bang this bitch the fuck out!" It's vulgar, offensive, controversial and I absolutely love it. It's definitely NSFW. El-P and Killer Mike were meant to make music together. My favorite track on the album would have to be "Blockbuster Night Part 1" because everything in this song works perfectly together. The final lyrics of the song really put an exclamation point on it.
This is really an album you have to hear for yourself because there is just so much to breakdown in it. This album tied with two other albums as my favorite of the year (the next album I'm getting ready to talk about and the other one you'll know on Monday). Not only that, but this is probably my favorite hip-hop album I've ever listened to. It's a damn shame this wasn't nominated for a Grammy because it's better than all of the Grammy nominations for Best Rap album.
The War on Drugs – Lost In The Dream
The Philadelphia-based band composed of lead singer Adam Granduciel, David Hartley, Robbie Bennett, Charlie Hall, Joe Natchez and Anthony LaMarca have dazzled critics and fans everywhere with this album. Unless your name is Mark Kozelek, then you'll probably love this album. Granduciel shows that he's a musical genius with such a deep and complex album like Lost In The Dream. I mean who starts an album off with a nearly nine minute song? Most of the songs on this album are over five minutes long. It's going to take you a while to listen to it, but trust me it is well worth it. Don't listen to it in chunks either because this album is a journey and is meant to be listened to in full from start to finish.
As for my favorite track, it would be a toss-up between "Red Eyes" and "An Ocean in Between The Waves." It really depends on my mood. I will say though my favorite line is in "An Ocean in Between The Waves." It's the brilliant line of "In my finest hour, can I be more than just a fool?" It's such a simple line, yet it means so much. I will admit it can be hard to pay attention to the lyrics at times because the instrumentation is just so damn good. The amount of detail and thought behind each sound is unbelievable. This is the kind of album you put on right before you go for a long drive.
Rival Sons – Great Western Valkyrie 
Along with The War on Drugs, Rival Sons proved to me that rock music isn't dead. Behind country music, I would say rock music is my favorite. But in recent years I drifted away from the genre just like I did with country music. When I came across this group's album and listened to it, they made me believe in rock music again. They also taught me that you can't rely on the mainstream to guide you to the best rock music (just like country music). Great Western Valkyrie is the perfect blend of the classic rock throwback sound and modern rock influences. The album opens hot with "Electric Man" and really sets the tone for this album. There are several highlights on this album, from the loud and in your face "Open My Eyes" to the more subdued and tender "Belle Star."
I was really surprised that very few "best of" albums list didn't mention this because to me it's easily one of the best rock albums I've heard in the last five years. This album was also shorted by the Grammys, but hey the Grammys suck most years and at least they stayed consistent. I know I appreciate Rival Sons' Great Western Valkyrie and many other do too. Thank you Rival Sons for also restoring my faith in rock!
Weird Al Yankovic – Mandatory Fun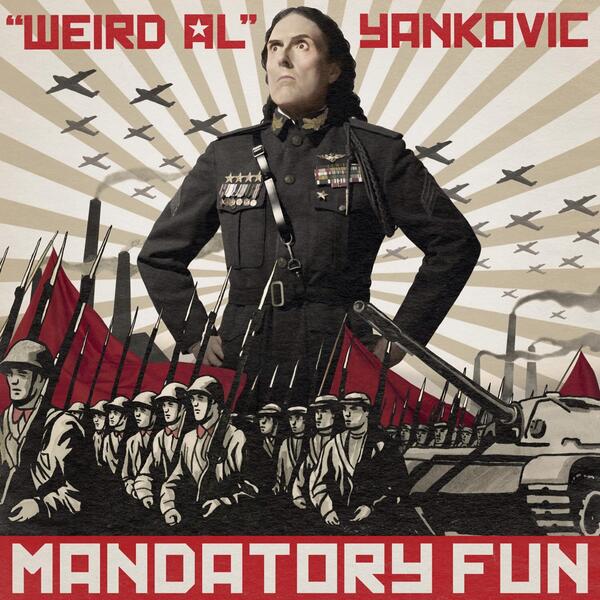 If you don't like Weird Al Yankovic, you don't like to laugh. In a world full of too much political correctness and super serious people, Weird Al is here to remind us it's okay to laugh while listening to music. I not only got plenty of laughs from Mandatory Fun, but I was impressed by Weird Al's lyrics and style choices. He also took a unique approach in promoting the album, as he released eight music videos over eight days all in different places the week he released the album. The music videos make the songs even better of course. One song in particular where the video makes it even better is "Foil," which goes from talking about keeping food fresh to conspiracy theorists and aliens (that reminds me that Sturgill Simpson and Weird Al should make a song together).
My two favorites though on the album are "Word Crimes" and "Jackson Park Express." The first, "Word Crimes," is a song the world didn't know it needed until they heard it. It blows the song it parodies, Robin Thicke's "Blurred Lines," out of the water in terms of lyrics and content. It sends a message that many people need (how to write like a human being) and it also takes a nice little jab at prima donna Prince. "Jackson Park Express" is a nine-minute, bizarre journey on a bus (sounds like an episode of Seinfeld) where a man goes from irrational to just plain creepy with his thoughts about a woman sitting across from him. It's one of Weird Al's best original songs ever.
Who would've thought when Weird Al started his musical career in 1976 that we would still making music after all these years? Keeping being awesome Weird Al and congrats on your first #1 album!
Pentatonix – PTX, Vol. III
A capella music! I told you I listen to everything. When I discovered Pentatonix last year I was enamored by them. How could they be so damn good while using zero instruments? Keep this in mind when listening to their music. If you had some unknown person off the street who had never heard this group's music before they would have no idea there is no instrumentation involved because they do such a great job replicating the sounds with their mouths. And when they bring in instruments (usually the great Lindsey Stirling with her violin), they still knock it out of the park.
I usually like their covers of songs even better than the original versions of those songs. That's the case again with their covers of "La La Latch" and "Rather Be" on PTX, Vol. III. The harmonies on "Rather Be" really blow me away, as you'll find after listening to their music that harmonies are their biggest strength. Their original music doesn't impress me as much as their covers yet, but they're slowing getting there I think. My favorite original song off the album is "Standing By," which shows off the group's softer side. I think this A capella group will only get better with time.
Honorable Mentions:
Lindsey Stirling – Shatter Me 
The Foo Fighters – Sonic Highways 
Schoolboy Q – Oxymoron
(12/23) Late Addition: Hozier's Self-Titled Debut Album