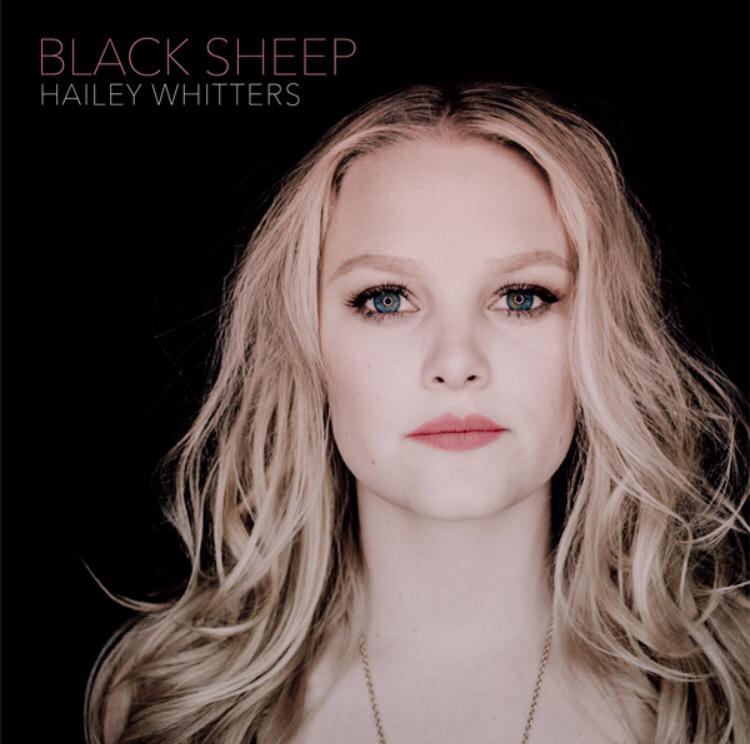 Iowa native Hailey Whitters has always had an affinity for music. She grew up in a large family in a small town and found herself drawn to country music, primarily women like The Dixie Chicks, Trisha Yearwood, and Patty Griffin. A trip to Nashville at age 16 confirmed to Whitters that country music was the place to be, and she signed with Carnival Music in 2012. The singer songwriter paid her dues in dive bars worked with producer Derek Wells to bring her debut album, Black Sheep, to life. Hailey Whitters had a hand in writing 8 of the 10 tracks, three of which she wrote herself.
Black Sheep begins with "Long Come to Jesus" which Whitters wrote with songwriting veteran Matraca Berg. The country rocker is a first person take of how Whitters, once again, falls for a guy even though the red flags fly high for everyone to see. She knows that her family and friends don't agree with what's happening and that there's a "long come to Jesus waiting on the other side" of this journey. The production is rather safe on this song, but it works nicely as an album opener. Whitters' voice carries a Texas like attitude that fits nicely with the lyrics. As I listened to the album, I heard a lot of Kacey Musgraves, Lee Ann Womack and a little Miranda Lambert in Hailey Whitters. "City Girl" is one of the two songs Hailey Whitters didn't write, but the song feels genuine as she grew up in a town of 600 people. The song idolizes rich city girls who dress fancy and have unlimited credit cards to go out and do stuff while she sits at home in the middle of nowhere. It's a different song than you'd expect in country music as the song carries little pride for the small town home life.
"Late Bloomer" is somewhat autobiographical for Whitters. The lyrics say it's okay if you're a late bloomer in life whether it's the growth spurt or figuring out your life plan. The lyrics aren't cheesy given the subject matter, but it's the production that shines on this track. The slide guitar licks in the chorus of this ballad compliment the song well. This is followed by the title track, which encourages one to embrace their differences. "Black Sheep" is a heavy country rocker with a great, biting vocal performance. "Who really wants to be white as snow? The thing about black is the dirt don't show," she sings in the chorus. The metaphor works well in the song. On "Low All Afternoon," Whitters sings to a woman who's been rejected by her man. This woman was "the other woman" in this man's life, and now he's ready to settle down and removes her from his life. A piano drives this ballad and Hailey Whitters' sings at a higher register that sounds great. Martina McBride is slated to record a version of this song on her next release.
Whitters gets deeply personal with "One More Hell." A song written in the wake of her brother's death, the song details how she wishes to raise one more hell with him before going to heaven. The lyrics are painfully honest with the first verse essentially ripped out of her personal diary. "I've heard that in time the pain will go away. My tears will all dry up and I'll smile when I hear your name. Mama's not right and daddy's still mad, he says he wants to kicks God's ass. 'Cause he says it ain't right that he took you so fast." I applaud the brutal honesty in the lyrics because that's what makes the story connect. The acoustic production aids the song nicely behind Whitters' great vocal delivery. "One More Hell" is far and away the best song on the album.
"Heartbeaker" is another country rocker full of bad girl attitude. She sings of a man who carelessly plays with her heart. If he keeps it up, she claims she can also be a heartbreaker to him as well. There's a sense of familiarity in this song, not even in the subject matter, but also the production. It's not a bad delivery of the song at all, but there's not much originality in this song. On "People Like You", Hailey Whitters sings to a friend who's broken and scarred just like herself. The lyrics encourage this friend to not be afraid to show vulnerability when they're together. It's a nice ballad with good sentimental lyrics.
"Pocket Change" is another hell raising rocker about not putting up with being toyed around with. She doesn't want to be anybody's pocket change and wants to leave town. There's a big classic influence in this rowdy honky-tonk song that sounds great. The lyrics are bit repetitive, but the production is a standout. Black Sheep wraps up with "Get Around." This song is an honest look at the girl who gets around. They beat around the bush with phrases like "word gets around that I get around" and "it ain't easy being easy." It's a tender ballad that shines a light past the surface of this girl.
Overall, Black Sheep is a solid debut effort from Hailey Whitters. Production-wise, the album sounds very safe. Don't get me wrong, the instrumentation is good and is a nice blend of country and rock, but there weren't many chances taken in that area of the album. Black Sheep carries a sound that is all too familiar, yet it works and has a slight air of freshness to it, mostly due to the lyrics of the songs. Hailey Whitters' strength is in her songwriting and Black Sheep offers up many great well-written stories and songs. There's a great sense of maturity and life experience in the lyrics. Hailey Whitters is one to keep your eye on and Black Sheep is an album worth listening to.
Grade: 8/10